For over 25 years, Synthesis has delivered innovative customised solutions using leading technologies. Forming part of the Software division of Capital Appreciation, a financial technology company, Synthesis has continued to grow its leading position as a preferred software implementation partner.
Reflecting on the past financial year, Michael Shapiro, Managing Director of Synthesis has reason to be proud. With revenue increasing by 58.1% and EBITDA by 28%, the team has shown commitment and dedication to growth across all divisions. In addition, the business achieved a Level 1 B-BBEE status in 2023.
The business is in a growth phase based on demand experienced.
Synthesis continued to grow its leading position in Cloud migration and modernisation initiatives as an AWS Advanced Consulting Partner. Its capabilities are also being extended to assist customers on both Microsoft Azure and particularly the Google Cloud Platform and these capabilities will be further strengthened by the recently announced Dariel acquisition.
The Software Division's Digital division benefited from new project wins with financial services clients in South Africa and Mauritius, as well as excellent progress with the large, multi-year international logistics project. The project has increased the division's international exposure and generated significant foreign currency revenue.
Growth in the Intelligent Data Division has continued unabated, growing revenue strongly year-on-year. The business unit is executing a portion of the abovementioned logistics project, and has landed its first Netherlands client. Synthesis continues to strengthen its relationships with global suppliers, having been named Confluent's Nordics, Europe, Middle East and Africa (NEMEA) Focus partner. The business unit is also accelerating the adoption of Generative AI (such as OpenAI's, ChatGPT, and GPT-4) tools into the core of the Software business and for its customers.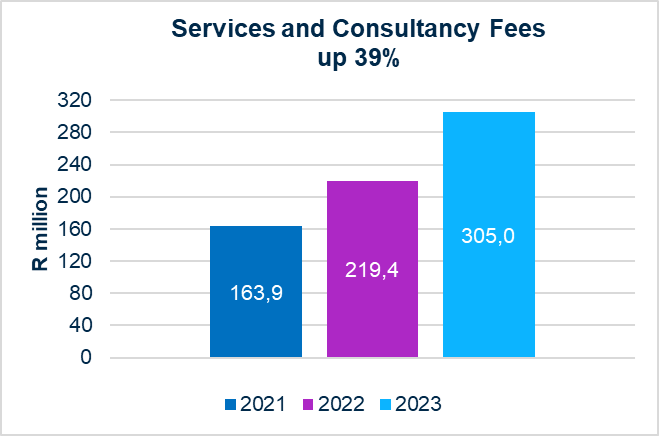 Services and consultancy fees accelerated by 39% due to the increased demand for cloud and digital projects, and Security hardware and third-party licence fees which increased significantly.
To take advantage of the strong demand and current and future contracts, the software division has materially increased its headcount and marketing and business development spending.
The Capital Appreciation Group believes that the increase in expenses is required to fuel growth both locally and internationally. These expenses will continue to be closely managed to ensure return on investment, and improvement on operational leverage as the business continues to expand."- Extracted from Capital Appreciation, SENS Report FY2023 Full Year Results, March 2023.
As part of Synthesis's growth strategy, we have an ongoing commitment to leveraging our partnerships, both existing and new. As an AWS Advanced Consulting Partner, we have competencies in DevOps, Financial Services, Microsoft Workloads, Security, and Cloud Migration. We have further extended our cloud offering by partnering with both Microsoft Azure and Google Cloud. Our partnership with Confluent continues to grow internationally with focus areas across Data and Analytics, Data and Event Streaming, Machine Learning, and AI, having recently presented at the Kafka Summit London 2023.
Some customer successes include implementing a number of solutions for our clients across all divisions.
Worth noting is that Synthesis worked collaboratively on the implementation of Payshap, South Africa's first fully functioning (ACH) Automated Clearing House payment system that runs in the cloud. The PayShap platform was launched in March 2023, and Synthesis designed and developed the Cloud infrastructure and foundation for the organisations ongoing cloud journey.
Synthesis also delivered a modern cloud-based Regulatory Reporting Platform for a large South African Insurer. A central reporting function that collates data from all business units to prepare a unified view of the customer from the group's perspective to submit to SARS and meet regulatory reporting obligations.​
"Globally, we are looking to lead in innovation from propriety software solutions to deliver operational leverage through investments into emerging technology, such as Generative AI and Web3, and broaden our solution set with various product offerings.
I am incredibly proud of our team and look forward with tremendous excitement to the year ahead," concludes Shapiro.